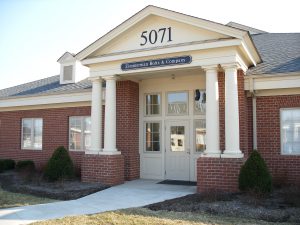 Zimmerman, Boltz and Company
www.zbco.net
5071 Forest Drive, Suite A
New Albany, Ohio 43054
www.zbco.net
(614) 939-4700
(800) 952-1120
Don Zimmerman established this accounting firm in Columbus, Ohio in 1974.  The firm works primarily with professionals in the dental field.
Jim Boltz has over 25 years experience providing accounting and consulting services tailored to meet the specific needs of the dental profession.  A 1986 graduate of Otterbein College (B.A. in Accounting), Jim currently provides professional services to more than 250 dentists.  In addition, he is actively involved in the practice management program at The Ohio State University School of Dentistry.  Jim is a member of the Academy of Dental CPAs.
Our Philosophy
The team of accounting professionals at Zimmerman, Boltz and Company is committed to providing each of our clients with the careful, personalized attention necessary to assist them in achieving their personal and professional goals.
Our Professional Services
Zimmerman, Boltz and Company offers a full range of accounting and dental practice management consulting services, including:
Financial Statement Preparation
Financial Planning
New Practice Set-Up
Tax Planning and Preparation
Retirement Plan Administration
Human Resources Management
Dental Fee Surveys
Practice Management Education
Salary and Benefit Reviews
Our Value-Added Difference
With the proper education and attainment of skills, anyone can perform the act of dentistry.  The same is true for the act of accounting.  Successful practitioners in both professions take the time not only to educate themselves – but also to educate their patients, their clients, and their staffs.  We believe that efficiently managed, profitable dental practices reflect the same fundamental principles.  That's why we take the time to educate our clients about the business of dentistry – and that is the value-added difference Zimmerman, Boltz and Company offers to its clients.  We assist the doctor with the implementation of effective business principals within his or her practice.  And, because the measure of success is as different as each of the clients with who we work, we customize the application of those business principles to match the specific circumstances of each doctor and practice we serve.  The bottom line: We always go "the extra mile" to assist the doctor and his or her spouse in organizing and prioritizing their personal and professional goals – and then we assist them in directing and managing the practice in a manner that fulfills those goals.